High Performance Liquid Chromatography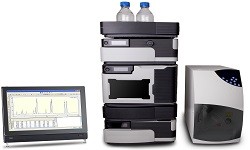 Submit Abstract
Register Now
High Performance Liquid Chromatography is a non-destructive procedure for resolving a complex mixture into its individual fractions or compounds. It is based on differential migration of solutes with the solvents. The solutes in a mobile phase passes over a stationary phase. Those high affinity solutes of the mobile phase will spend more time in this phase than the solutes that prefer the stationary phase. As the solute rises up through the stationary phase they gets separated. This process is called chromatographic development. The fraction with greater affinity to stationary layer travels slower and shorter distance while that with less affinity travels faster and longer.
High Performance Liquid Chromatography is a highly improved form of column chromatography. This technique is makes it much faster as the solvent Instead of being allowed to drip through a column under gravity, it is forced through high pressures of up to 400 atmospheres.
High Performance Liquid Chromatography allows us to use a very much smaller particle size for the column packing material which gives a much greater surface area for interactions between the Stationary phase and the molecules flowing through it. This allows a very good separation of the components of the mixture.
Related Conference of
High Performance Liquid Chromatography
High Performance Liquid Chromatography
Conference Speakers
Recommended
Sessions
Related
Journals
Are you
interested

in