Chromatography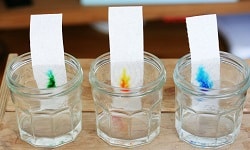 Submit Abstract
Register Now
Chromatography is an analytical technique commonly used for separating a mixture of chemical substances into its individual components, so that the individual components can be thoroughly analysed. There are many types of chromatography e.g., liquid chromatography, gas chromatography, ion-exchange chromatography, affinity chromatography, but all of these employ the same basic principles. Chromatography may be either preparative or analytical technique. The main purpose of preparative chromatography is to separate the components of a mixture for later use which is a form of purification. Analytical chromatography is done normally with small amounts of samples which are majorly for establishing the presence or measuring the relative proportions of analytes in a mixture. The two are not mutually limited. Several types of chromatographic techniques are involved in the chromatography in which each type of chromatographic method deals with each type of particular separation techniques.
Chromatography has numerous applications in both chemical and biological fields. In biochemical research, it is widely used in for the separation and identification of chemical compounds. This technique is employed to analyze complex mixtures of hydrocarbons in the petroleum industry.
Chromatography, as a separation method has a very high number of advantages over older techniques like crystallization, solvent extraction, and distillation. Without requiring an extensive fore knowledge of the identity, number, or relative amounts of the substances present, it has the capability of separating the components of a multicomponent chemical mixture.
Column Chromatography
Planar Chromatography
Paper Chromatography
Thin Layer Chromatography (TLC)
Gas Chromatography
Liquid Chromatography
Supercritical Fluid Chromatography
Ion Exchange Chromatography
Size-exclusion Chromatography
Expanded Bed Adsorption Chromatographic Separation
Reversed-Phase Chromatography
Hydrophobic Interaction Chromatography
Two-Dimensional Chromatography
Simulated Moving-Bed Chromatography
Pyrolysis Gas Chromatography
Fast Protein Liquid Chromatography
Countercurrent Chromatography
Periodic Counter-Current Chromatography
Chiral Chromatography
Aqueous Normal-Phase Chromatography
Related Conference of
Chromatography
Chromatography
Conference Speakers
Recommended
Sessions
Related
Journals
Are you
interested

in